5 May · 2020
Many people are working from home during this situation. Because of this, we looked into how and when TFA (Labour Market No Fault Liability Insurance) works when working from home. We found quite a few gaps, which is why I'm sharing a few tips on how you should think as an employee and employer so that you are covered if an accident happens!
Friday, March 13th was the day that many of us Swedes started working from home. Almost two months has now passed and many of us are longing to go back to the office, the co-workers and normal routines. However, working from home is a small price to pay in order to stop the virus from spreading.
Many believe that we will see an increase in working from home when the pandemic is over. This means that the needs and work situation for both employees and employers might change for the foreseeable future.
Questions about the work environment and the employer's responsibility, how insurances cover the employee when working from home have been raised, and not just for this exceptional situation but for those who usually work from home too.
We've asked AFA Insurance how TFA works. The insurance covers damages caused by:
Accidents in the workplace
Commuting accidents, i.e. injuries that happened traveling to or from work
Occupational illness lasting more than 90 days
Considering that a lot of people are working from home, we noticed quite a few gaps. See the table below: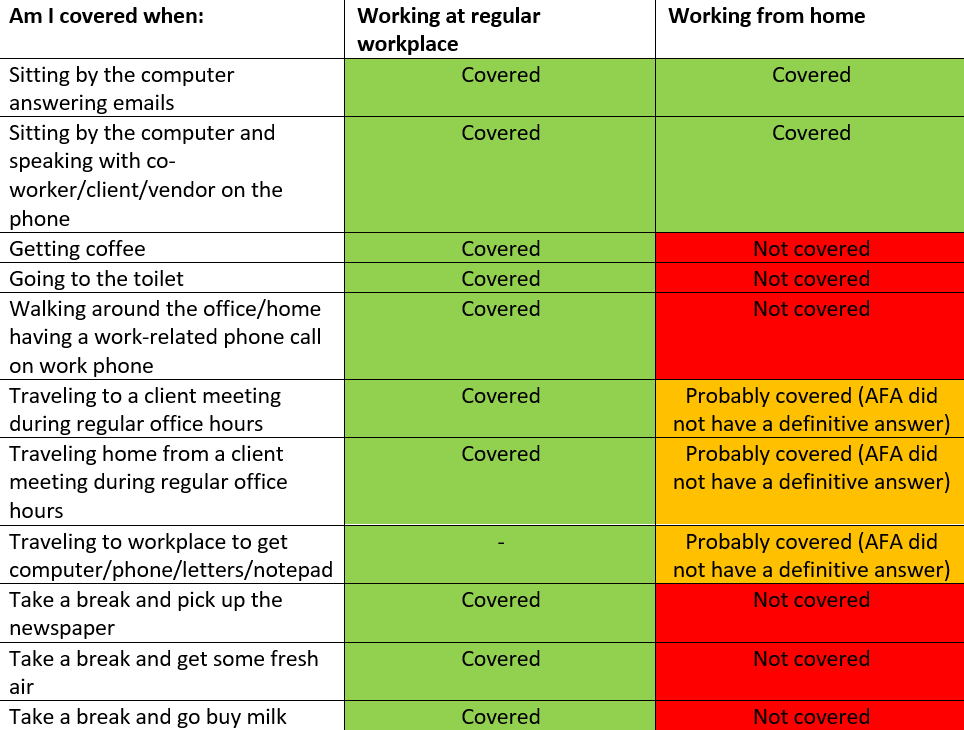 AFA Insurance points out that TFAs don't apply when an employee working from home has an accident when for example, taking a break and going out for some fresh air. The insurance also doesn't cover employees during a bathroom break or when getting a cup of coffee. Who's to say that that's not when an accident might occur?
Many employees do however often have a private accident insurance that is valid 24 hours/day, which is a good complement, but far from everyone has this coverage. When it comes to accident insurance, we are generally better at insuring our children than we are at insuring ourselves. This is understandable – but it's now the opportune time to reassess your own coverage!


Checklist for employees
Make sure that your private accident insurance is valid 24 hours/day
Are you not covered and would like more information? Please contact your insurance company or your adviser at Söderberg & Partners.


Do you as an employer need to supplement your accident insurance when working remotely?
Perhaps for a certain category of workers,
A certain period of time, or
For employees who usually work from home?
After acknowledging the coverage gaps, we at Söderberg & Partners have worked on a solution that applies when working remotely and covers accidents when TFA doesn't. Would you like to know more? If you are an existing client – contact your adviser. If not, please fill in the contact form and we will get back to you.