Transport and goods insurance
There is always a risk that goods will be damaged or lost in transit. Regardless of how they are transported – by car, train, boat or plane – the carrier's liability is limited and damaged or lost goods are usually compensated at a predetermined price per kilo. With transport insurance, you can transport goods safely and securely, without worrying about what can happen during the journey. Let our specialists help your company find the best solution for your business.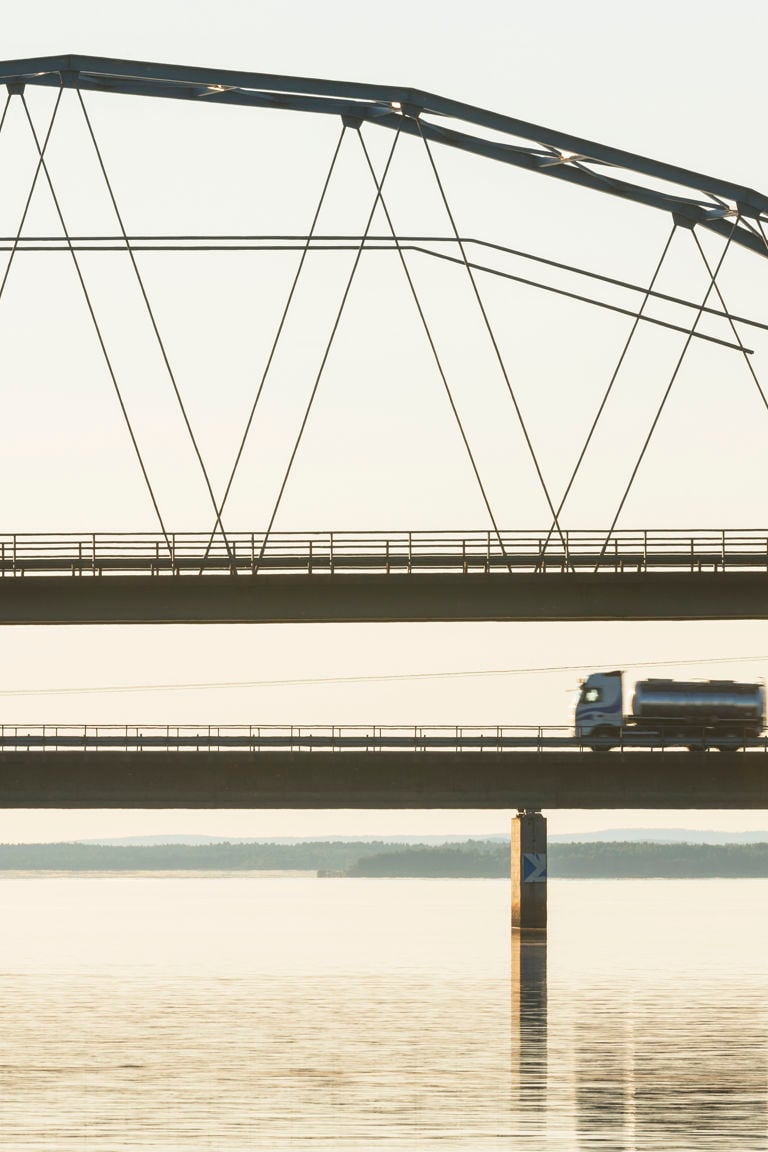 Peace of Mind if Something Goes Wrong!
A lot can happen to goods during a transport, and there is a risk that they will be damaged or lost. Transport insurance provides financial protection in the event of an accident.
Protection for the Entire Transport Process
With the right insurance, you are protected against damage that can occur throughout the entire transport process – from loading and transport to intermediate storage and unloading.
Avoid Paying Damages
If you are a carrier, you may be liable for damages if the goods are damaged. If this should happen, you will receive help before and during the legal process. If you are liable to pay damages, the insurance covers all costs.
What is Transport Insurance?
Transport insurance compensates for damage that occurs when you transport goods by your own vehicle or if you have hired a carrier. With transport insurance, you receive full compensation in the event of an injury and avoid having to deal with the practicalities – regardless of who is responsible for the damage.
A transport insurance policy applies, for example, if a truck drives into a ditch, a train derails or if a ship is lost. It also applies if goods are stolen or crushed during transport, transitional storage, loading or unloading.
The purchase agreement specifies which delivery terms apply and whether the buyer or the seller is responsible for the risk during shipping and should therefore take out transport insurance. Our experts analyse your company's goods flow and develop optimal transport insurance for your particular business.
Different Types of Transport – Different Insurance Needs
Each transport company has its own challenges, which also governs the need for insurance. There is a big difference between having a small haulage company and importing commodities from all corners of the world. Our specialists know the transport industry and will recommend an insurance solution based on your specific needs. But our ambition is always the same – to simplify, clarify and give your company the optimum insurance cover.
Other common transport insurance products
Truck Insurance
If your truck is out of commission for any reason, it may cause delays in deliveries, and your business may suffer. With the right truck insurance, you avoid worrying about lost income as you receive compensation from the first day. The insurance applies regardless of whether the truck is used to carry the company's own goods, is hired out or on contract.
Haulage Insurance
Traditional vehicle insurance does not cover all types of damage that are common in the haulage industry. You may therefore need to supplement your vehicle or transport insurance with a haulage insurance policy that covers e.g. assaults, theft and damage in the event of a break-in to the garage.
Goods Insurance
Whether you work domestically with purchases and sales, export or import goods from abroad, you may need to supplement your vehicle or transport insurance with goods insurance. The carrier's liability is limited and without goods insurance you may risk not getting your retail goods paid at their full value in the event of damage. Goods insurance protects against damage regardless of who caused it.
Contact and Quotation Requests
Would you like a quote or want to know more about our insurance and services? Contact us for more information!
Contact us