Do you like responsibility and are interested in working with economics and finance?
Whether you work as an accounting economist, controller, team leader, financial assistant or in another related area, you are someone that likes taking personal responsibility for your tasks. At Söderberg & Partners, we are characterized by our solutions-focused mindset, and the desire to continuously streamline and refine our working methods and processes. We also have services that connect finance and IT, where you can act as a bridge between the departments.
Our economists work with the Swedish subsidiaries' financial processes in the Sweden Finance team, and group financial processes in the Group Finance team. Ongoing accounting is largely handled by Shared Services, which is part of Sweden Finance.
In the Special Clients business area, we also have financial consultants who help our external customers with accounting, among other things. All these units are located at our head office in Stockholm.
Can't find any advertised vacancies? Feel free to register a spontaneous application!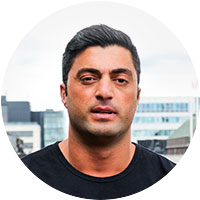 "A workplace with wonderful colleagues, who help me develop and enjoy my job."
Ümit Köseoglu, Accounting Economist
See available positions